About the study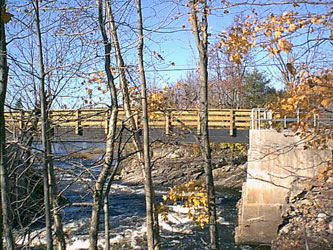 The Village of Edwards has an estimated population of 440 residents and encompasses about one square mile of the 50.7 square miles in the Town of Edwards, located in southern St. Lawrence County. The Town's total population, including Village residents, is 1,127, based on 2007 Census estimates.
The Village and Town Halls are located in the same historic building and the Town Supervisor currently also serves as the Village's clerk-treasurer, sewer clerk and water clerk. Excluding the Village's three elected officials, the only other Village employee is a very part-time code enforcement officer. The Town is responsible for providing most major services, including highways, court and assessment services.

The Village Board of Trustees applied for and received a high priority planning grant from New York State's Local Government Efficiency (LGE) program. In applying for the grant, the Village said the major reasons it sought the grant are to:
Outline the fiscal and non-fiscal advantages and disadvantages of dissolution;
Identify how Village services will be continued should the Village government be dissolved; and
Establish an orderly process for the disposition of Village assets and liabilities should the Village government be dissolved.
In spring 2010, the Village engaged a consulting firm, the Center for Governmental Research of Rochester, New York, to assist with the study. The Board also named a four-member study committee to oversee development of the study and plan. Committee members representing the Village are Chris Averill (chairperson) and Amber Drew. Representatives for the Town-outside-Village (TOV) are Mandy Fuller and Jennifer Hotaling. These representatives will complete their work by year end and will deliver to the Village Board, as part of the Committee's final report, a dissolution plan that meets the technical requirements of state law. At that point it will be up to the Village Board to take the steps necessary to put the issue of dissolution before Village voters. It is the intent of the Village Board to place a dissolution plan for the Village before voters in March 2011. Only voters in the Village of Edwards will be able to vote.